Antoni Clavé at the Bibliothèque nationale de France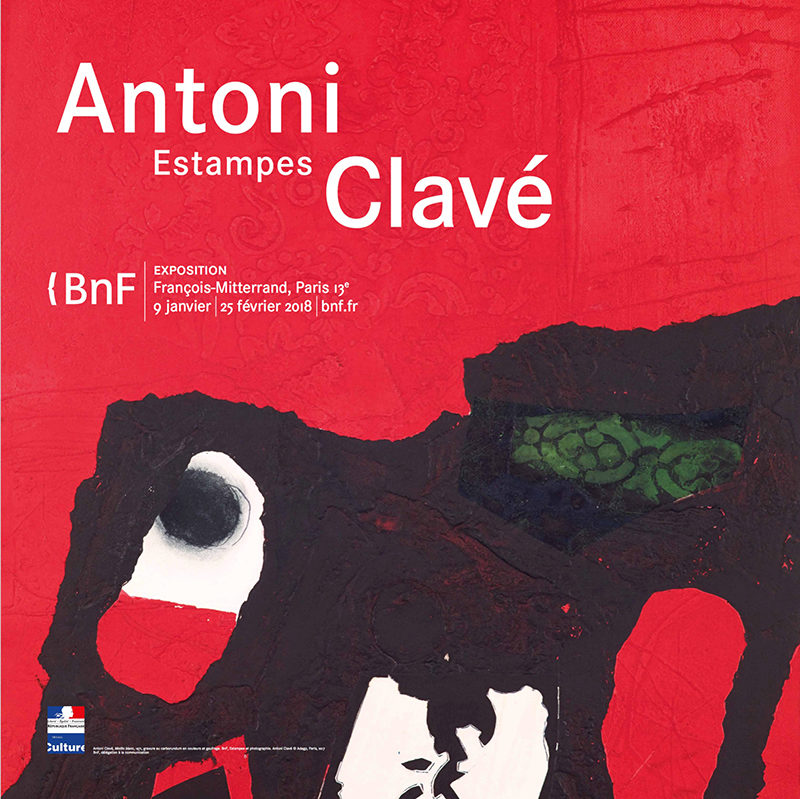 This exhibition organised by the BnF, which presents around fifty prints from 1955 to 1995, is a good overview of Clavé's printed work. These lithographs, etchings, aquatints, carborundum, embossings, collages and lithographed brown papers enable us to apprehend forty years of a creative journey, which is both technically and stylistically rich.
After a short experience in Spain, Antoni Clavé effectively starts engraving in 1939 in the atelier of Edmond Desjobert, who was also the print-maker of Picasso, Maillol, André Lhote, Zao Wou-Ki, Maurice Estève and Jean Dubuffet. His first prints were rather classic, putting the emphasis on narration and illustration.
On the occasion of a travel to Barcelona in 1965, he learns how to use aquatint and etching. He then leaves lithography aside to gain practice with intaglio, and starts engraving on copper and zinc. And he creates a studio dedicated to print making, thanks to which he can experiment new practices.
He discovers carborundum in 1968, shortly after Henri Goetz developed the technique, and this is a revelation to him. He adds matter and embossing to his engravings, which enriches his iconographic repertoire and is in line with his artisanal and experimental approach. Thanks to these techniques, he explores other materials and creates multiple prints in ingenious ways.
He plays around and associates all sorts of materials to his etchings and aquatints: fabric, cardboard, wood, newspaper clippings, strings, keys, and later nails, bugs, screws, trombones and staples. The medium itself becomes an artwork: two printing plates are indeed shown to the public.
The exhibition presents works which are paying tribute to the masters of Clavé's pantheon: El Greco, Rembrandt, Goya, Dürer. It is the occasion to rediscover Clavé's art, strongly embedded into Spanish tradition (bodegón/ still life) and into his century that is marked by experimenters such as Morandi (geometry and handmade colors), Miró with whom he shared among others the practice of carborundum, or also Brassaï (the graffiti as language).
A part of the exhibit is dedicated to the Instruments étranges, a set of carborundum created in 1980. Antoni Clavé celebrates music here, which was always an inspiration to him, or more specifically strings or wind instruments. With torn, embossed, perforated and overlapping papers, strings, twines, staples, bugs and nylon threads, Clavé uses here the technique of the assemblage; the adherence to motifs and matter in the carborundom surpasses strict bi-dimensionality.
A few plates of the books for bibliophiles are completing the exhibit at the BnF: Gargantua (1955) which durably renewed the iconography of the artist – kings and queens strongly contributed to Clavé's success, La Gloire des Rois (1976) – which opened the path to the renown "crumpled papers", or the print for Poèmes pour après (1989) –  a good testimony of Clavé's deep friendship with Pierre Seghers.
January 9 – February 25, 2018
BnF – Site François Mitterrand, Paris