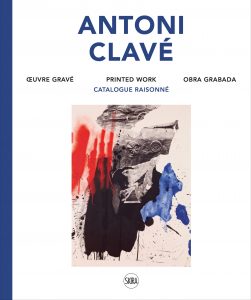 We are pleased to announce the publication of the catalogue raisonné of Antoni Clavé's printed work. It is available from December 6 2017.
Antoni Clavé 
is one of those great 20th-century artists who found in printmaking a crucial complement to painting and sculpture. This catalogue raisonné rounds off the works 
of reference of Roger Passeron (1977) and the Sala Gaspar (1984) with the addition of rediscovered, hitherto unpublished works, Clavé's last prints and rare books illustrated by the artist. It is intended both as a definitive tool for collectors and a journey 
to the heart of a graphic oeuvre in permanent correlation with
its creator's painted and sculpted body of work. As such it throws new light on the overall approach of a singular artist who played
a distinctive part in the history of French and Spanish art in the second half of the 20th century.
Authors: Tomàs Llorens, Céline Chicha-Castex, Aude Hendgen
Foreword: François Pinault
Editor: Skira
Size: 24,5 x 29, 5 cm
Number of pages: 264
Illustrations : 704
Date of issue: 12.06.2017
Languages: French, English, Spanish
ISBN : 978-2-37074-065-6
Price: 99 €