Tela arrugada – Focus 8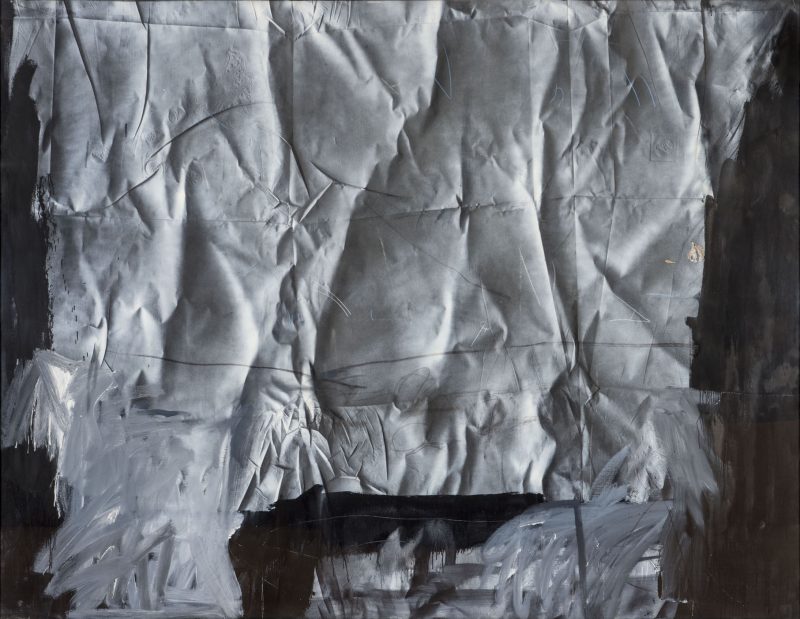 Between 1974 and 1976 Clavé illustrated a book for bibliophiles, "La Gloire des rois" by Saint-John Perse. For this exceptional publication, Clavé worked on a pure rag Arches Velin, and combined pure embossing and illusionist trompe l'œil with a peculiar material effect thanks to carborundum. His experimentation, this particular work, would have a tremendous impact on his painting: starting in 1977, Clavé created the unambiguous oils on canvas "À Saint-John Perse" (To Saint-John Perse), which are illusions of folded, creased, embossed and sometimes stamped canvases.
Tela arrugada dating from 1979  is the direct result of this practice. Mistakenly austere, the painting falls directly in line with the Spanish baroque of Ribera, Velasquez and Murillo. Thanks to the contrasts between shades of blacks and whites, and the subtle shading of grey, this painting catches the attention of the spectator. Our gaze is drawn into its  illusionist velvet, which is no longer immaculate. Clavé was replaced in his era owing to the lateral and foreground flat tints.
Tela arrugada was exhibited in 1984 when Clavé represented Spain at the Venice Biennale. This work, animated by a baroque spirit, is on display at l'Espace Paul Rebeyrolle in Eymoutiers until November 27th 2016.