Une porte à New York – Focus 12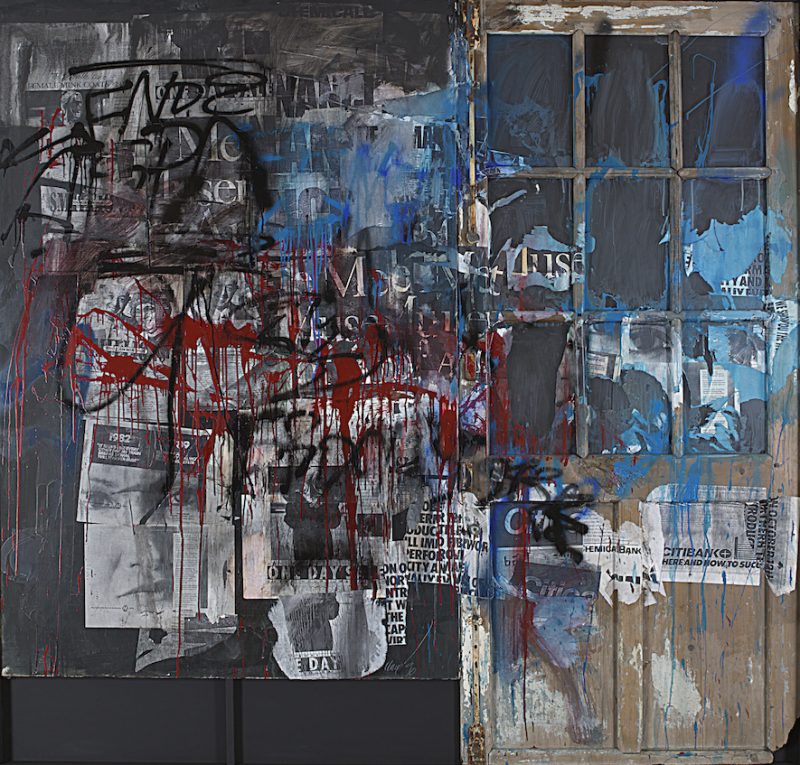 In October 1989, Antoni Clavé spent around ten days in New York, not for any exhibition but rather for leisure: he wanted to wander around, take photos, shoot films, and observe. This trip inspired him. After his return, he worked on a series of paintings, all grouped under the name "Vu à New York" ("Seen in New York").
In New York, Clavé discovered the coarse texture of the walls, covered with publicity posters, sometimes lacerated, multiplied, with dripping glue and graffiti. These fragments of urban New York that Clavé had noticed were later recreated in his studio. This was a unique chance for him to renew his practice, providing him with greater freedom. On this subject, Pierre Cabanne notes "the physical and spiritual space is made visible by Clavé. New York has become a fragment of a painting appropriated by the artist. It is clear, since Pop Art and New Realism, that the modern landscape is a painting" (« l'espace corporel et spirituel que Clavé donne à voir. New York est devenu un fragment de peinture que l'artiste s'approprie. Nous savons, depuis le Pop art et le Nouveau Réalisme, que la nature moderne est un tableau »).
The glazed door of an old house, next to a wall covered with posters that he'd seen in a poor neighbourhood of New York made a strong impression on him. He later found a similar door in a shipyard, and decided to recreate this juxtaposition of the door and the wall. Clavé always preferred rough matter to the beautiful. The door is old, rusty and dirty. The panel, which represents the wall, is covered with posters of New York and American newspaper pages. It is then speckled with large red and blue drips and heightened with graffiti of black spray paint. This painting is impressive because of its monumentality, its intensity and its pictorial violence. Clavé completed this work in February 1990.
As it is similar to street art and to artworks by Jean-Michel Basquiat, is the series "Vu à New York" a portrait of a city? More than ever, it is a question of the reflection of reality and its fragmented representation.