Avec des étoiles I (1991-1997) – Focus 13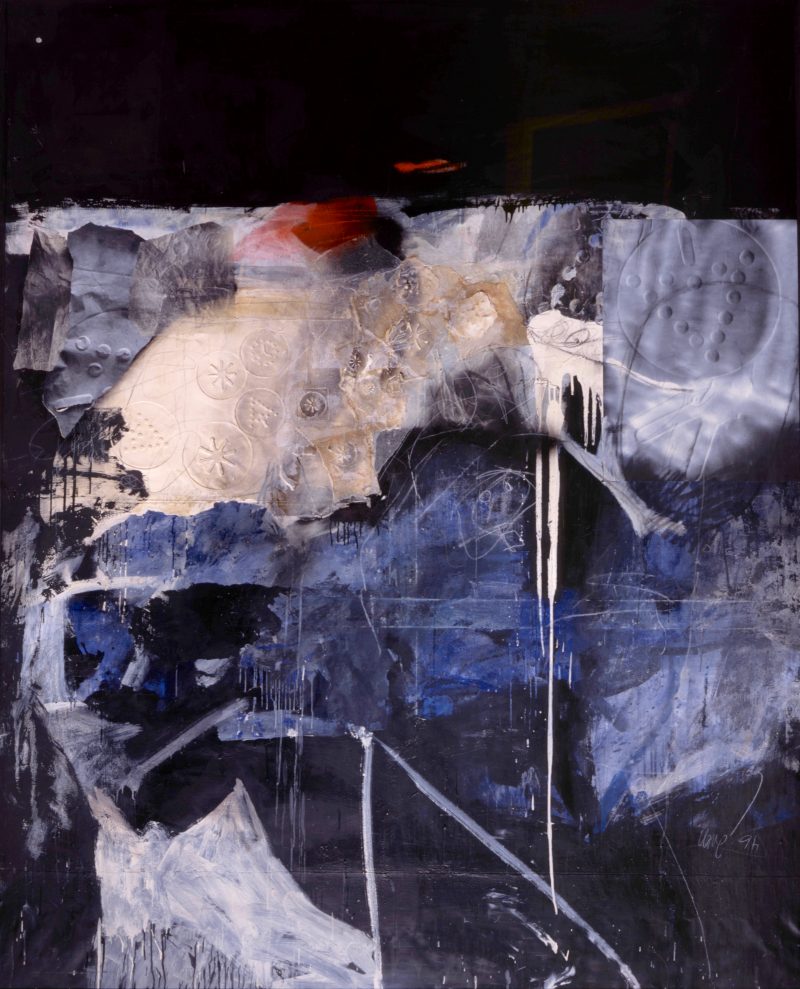 With "Avec des étoiles I" ("With the stars I") Clavé surpassed his memories, his work on New York and extended his personal universe. This work gathers together the preferred mediums of the artist: the assembling of collages, torn paper, embossing, diverse materials, drips, flat tint, and again graffiti. The spectator finds these characteristic marks and yet the work masterfully inaugurates Clavé's last period of creation, renewing once again his constant creative force, his distorted simplicity.
On approaching the canvas, we are hit right away by its light, noticing the "stars" in the tradition of Sorolla. After the scintillation, however, the blacks, also typically Spanish, impose themselves in a solemn manner, dominating the composition. This composition is incidentally peculiar: the upper banner of smooth black is a piercing response to the lower, stitched part of the canvas which is roughly treated by flat tints of white paint and spatters. With the bits of canvas added, he invites the spectator to inspect the composition more closely, the canvas, the canvases, as if grafted to one another. We find Clavé's appreciation for these rough patches in all of his genres, this roughness, the "raw" side is however sophisticated and controlled. Clavé plays with opposites and the paradoxes of forms, of backgrounds and also colours: the greys, blues and reds which were so dear to him are certainly present but it is the white that is the true architect of the piece.
Obscure darkness, organised mess, controlled chaos, here Clavé offers us an oxymoron in paint.