Hommage à l'Exposition Universelle de 1888 – Focus 17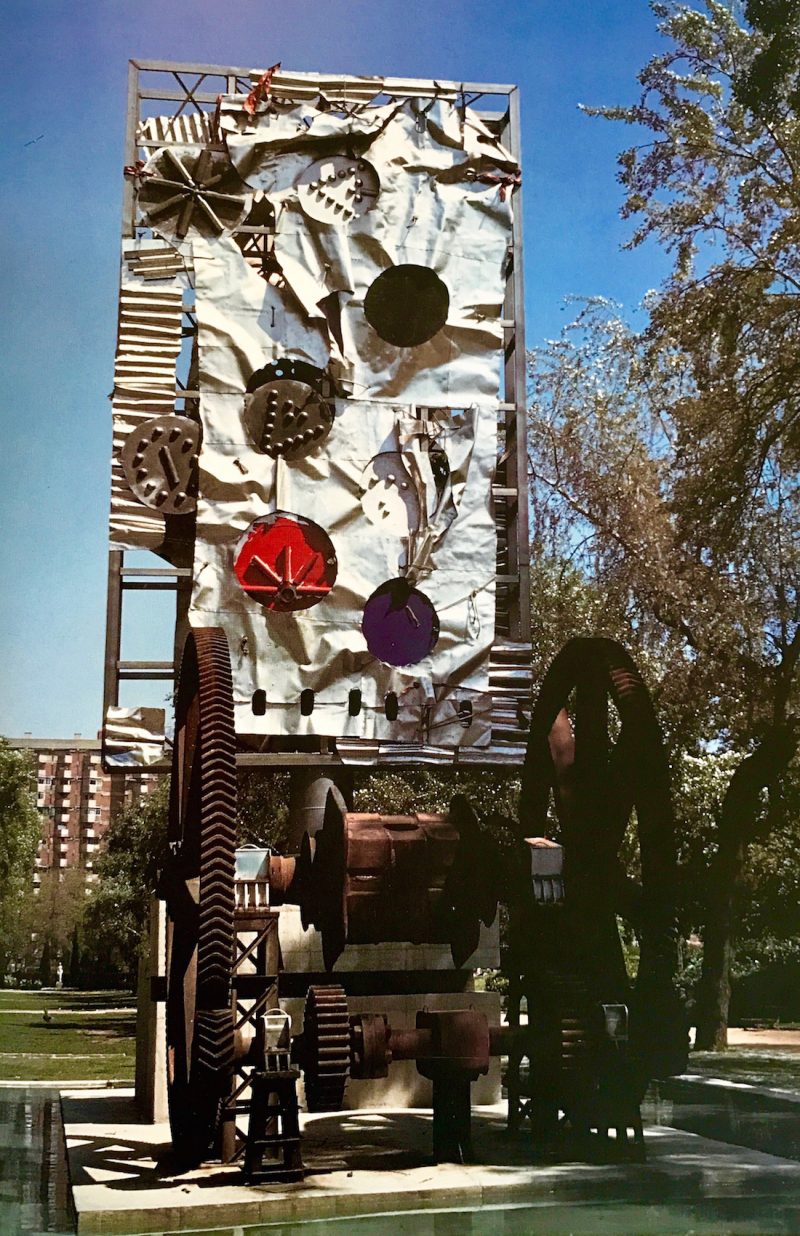 From the mid-eighties Clavé is known worldwide. The city council of Barcelona (Ajuntament) suggests he picks an area in the city so that he creates an artwork for his native town. Clavé chooses the Parc de la Ciutadella, a place full of memories for him (Sunday walks with his mother to visit the zoo or go to the Children's carousel). Not long after, the city council decides to pay tribute to the Universal Exhibition of 1988 and to the Catalan industry more generally. This decision is Clavé's breaking point. He starts to build models for a monumental sculpture, with the idea that it must include wheels. Wheels remind him of his childhood carousel and of a sculpture at the entrance of the park, which represents the Catalan industry, and features a wheel and a woman.
The first project looks like Drôle de tricycle created just the year before, and Clavé is not satisfied with the result. He asks the foundry he is working with to help him find two big-scale wheels, such as locomotive wheels. A little while later, Clavé is told that two gigantic and serrated wheels have been found (maybe there are even too big since of 4 meters high). Clavé discovers them at the harbour of Barcelone (these are likely to be dredger wheels) and it is love at first sight.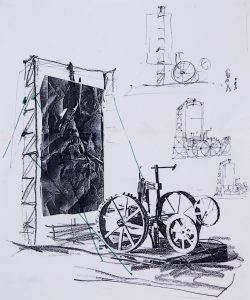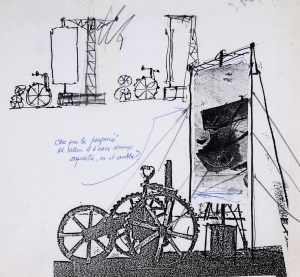 The monumentality of the wheels is both constraining and challenging. Clavé visualizes a double-faced, polychromic and embossed sculpture in crumpled aluminium that would rotate. With the help of preparatory drawings, he first creates a dozen of small-scale models, and then the final model in four parts, each measuring 4,80 x 2,40 meters. The resulting artwork is 14 meters high!
Clavé's universe can be found again in this unique piece with the mould imprints (he started using these imprints in 1968 with the engraving "Beau fixe" and later in his Oeuvre peint), the use of the aluminium – a material he feels affection for because of its ambivalent rigidity and flexibility, as well as the use of ropes, which he regularly uses in his sculptures. And final challenge: Clavé decides that both the wheels and the embossed structure will be rotary.
This monumental sculpture, which pays tribute to the 1888 Universal Exhibition and to Catalan industry, is gigantic and spectacular, and reflects how Clavé feels about his native town.