Œil vert Œil rouge – Focus 26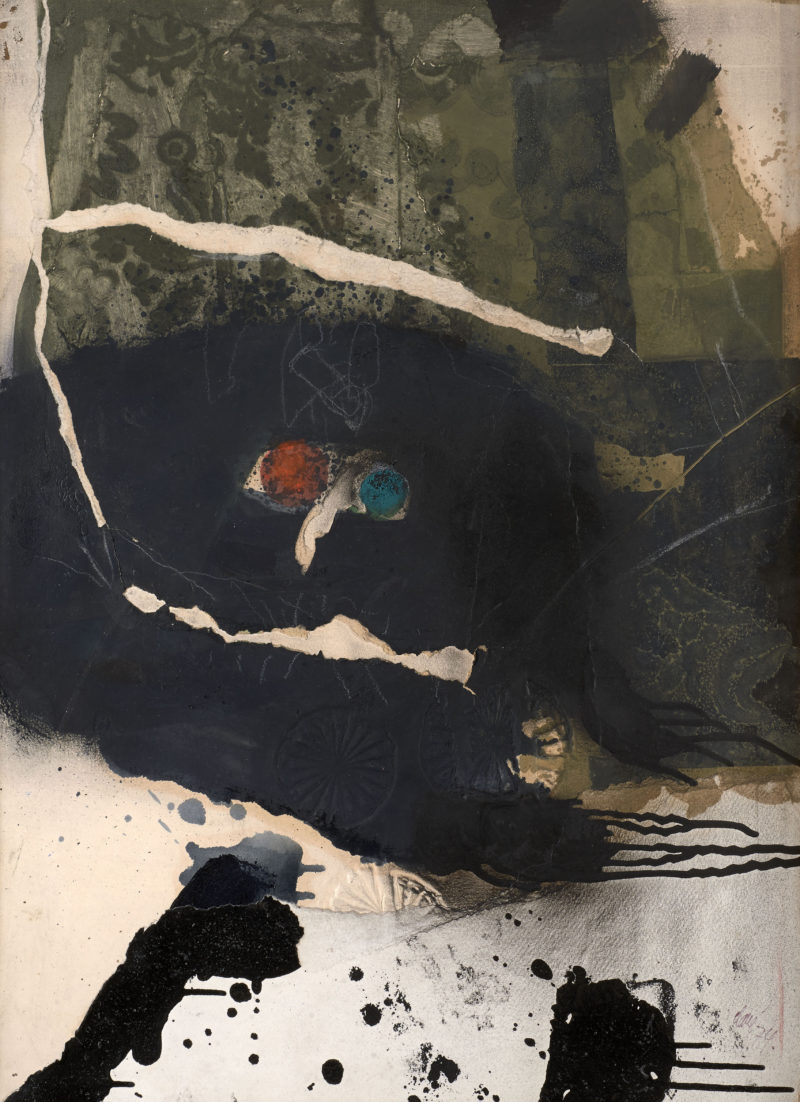 In the mid-70s, Clavé sets himself free from all constraints; the composition dares imbalance, the technique and the medium used are playing around the artistic standards of the time, without any attempt to seduce. The character's face is reduced to its essential features, without any single warrior's attribute (shield or spear) that were so often included by Clavé in his compositions. The face is filling the composition, yet it dilutes in it, as if carried away by a lateral movement. The work is obviously humoristic.
One cannot know whether the character bears a smile or a gigantic scar. The face is entirely black, and the technicolour eyes are probably a mask! Clavé's sense of humor is also present in the technique used, with papers that are engraved, ripped off, glued, stained or splashed. Clavé is willingly trying to push his creation process further than what is called "nice painting" and the usual classicism of oil paintings. There is here no preparatory drawing nor varnish, he reuses his engraving practice and embossing to compose a work with total freedom.
In 1968, Clavé uses the embossing signs for the first time in an etching, Beau-fixe. These embossings are linked to his family history. In the 60s indeed, when Clavé visits his cousin Josep Clavé in Barcelona, he sees some small round plates which were supposed to be used as cake moulds, but neither Josep nor his wife knew how to use these. Josep noticed how interested in these moulds Clavé was, and gave them to him. Clavé as well never used them to bake, but these metal plates enriched his iconographical repertory, hence creating a new world in his paintings, engravings and sculptures. Signs, stars, arrows are from this moment regularly used on all media, proving his mature talent, free from medium concerns. Clavé creates a new language with polysemous vocabulary based on signs, transcending yet autonomous.
As for collage, Clavé started employing this technique from the mid-30s when starting his career as poster artist in Barcelona. And he uses collage again as an assembling technique in his printed works from 1958 on with Roi. This theme, followed by the warrior one is developed both in engraving, sculpture and painting. This ebb and flow between media are enriching and unifying his style. Œil vert œil rouge, created in 1974, can be viewed as a humoristic heir of the warriors which brought fame to Clavé a couple years before.