Tales of Thread – A tapestry exhibition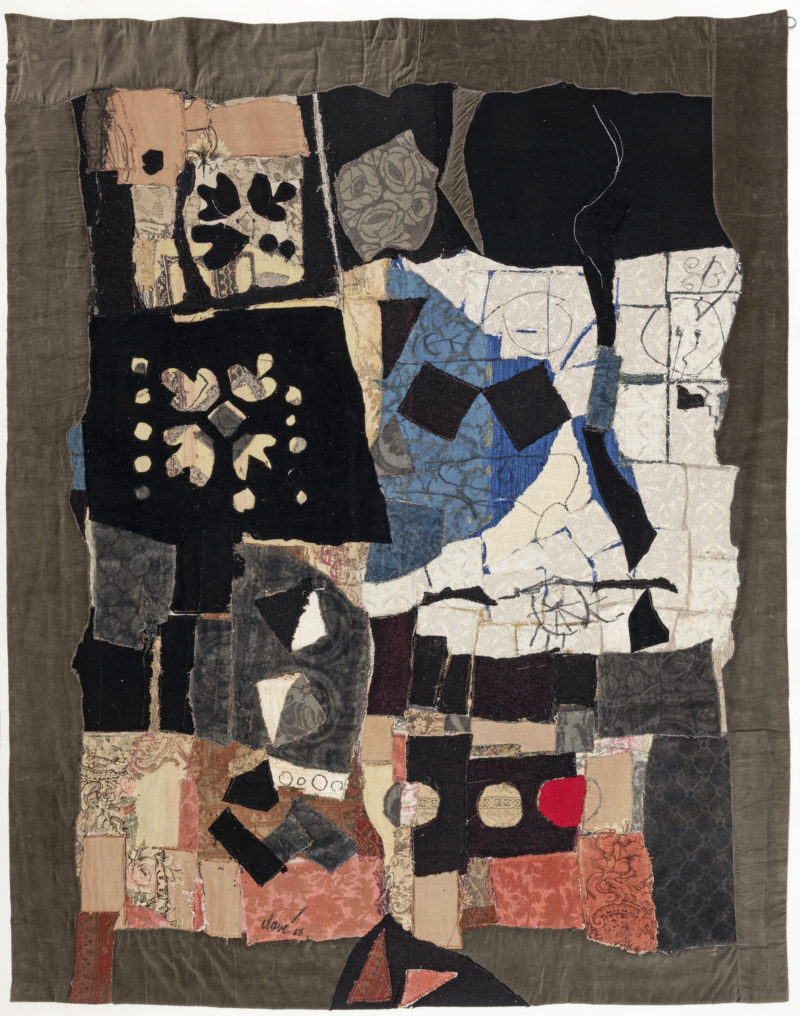 " The big tapestry is hanging at the walll in Paris. Just above one of the pieces by Dubuffet. It works well here; I like it a lot. Suzanne as well is happy to have it. And I am very amused to see how puzzled yet delighted the visitors are, when trying to understand what this work could be."   Jean Planque, in a letter from January 14, 1968. – © Archives Antoni Clavé
We are not talking about haute or basse-lisse in Clavé's "tapestries". Rather, these are an assembly of various types of fabric (old clothes, pieces of used rugs, coloured fabrics), which are ripped off, cut, crumpled and then sewn back together by Madeleine, Clavé's partner. Using her sewing machine or her hands, she followed a thorough order defined by Clavé; he indeed clearly orchestrated the encounters between materials and a couple colour traps. These embossed tapestries/assemblies are imposing artworks, which themes are common with Clavé's paintings. The Rois and Guerriers are indeed inspired by the Gargantua, a book for Bibliophiles that Clavé illustrated in 1955. This experience enriched since then his iconographical repertoire, in his prints, paintings and sculptures.
From 1967 to 1969, Clavé was inspired by the the Park Güell, a closed, eccentric and sumptuous world, and created a series of paintings. Gaudí offers there a new interpretation of Art Nouveau, a synthesis between tradition and modernity. When Güell passed away in 1918, his heirs decided to give the parc to the city of Barcelona. In 1926, it finally opened as a municipal parc. Clavé is a teen back then, and discovers this amazing place, where nature and architecture are so well complementing each other. The volutes, the floral motifs, the arabesques and multiple stencils are later naturally being included into the compositions paying tribute to Gaudí from 1967-1969, to which belongs A Antoni Gaudí. The composition is rich, saturated with various materials and colours, with a very Catalan solemnity.
Jean Planque, as eye of Ernst Beyeler, made no mistake. He discovered these unique tapestries when visiting Clavé in 1966. He immediately purchased a piece and told Beyeler about these new works, but without success. Planque persisted and talked to Creuzevault who then organised an exhibition showcasing these peculiar tapestries. The works were later exhibited at Semiha Hübert in Zurich in 1967, then at the Picasso Museum in Antibes and at the Sala Gaspar in 1968.
This fall, the Custot Gallery in Dubaï is presenting "Tales of Thread", an exhibition featuring 28 tapestries, rugs and works of textile art by 18 modern and contemporary artists, including Alexandre Calder, Eduardo Chillida, Antoni Clavé, Alice Anderson, Robert Delaunay, Sonia Delaunay, Maurice Esteve or Sheila Hicks.  "Tales of Thread" is celebrating the renewal of textile art, a perfect blend between the artistic reflections of European Modernism and a thousand years old handicraft.