In 1971, a few exhibitions celebrated the 500th anniversary of the birth of Albrecht Dürer. He is seen as the first major German artist in History; he was both a painter and an engraver embodying Renaissance just as much as Raphael, Lenoardo or Michelangelo. On top of being famous for his paintings, he was also renowned during his lifetime for his prints on wood or on copper, and it is no surprise that he played an important role in Clavé's works.
A couple of these "gravures-hommages" are dating back from 1971. L'Homme au gant is representing a character from the side, facing to the right. The tribute paid to Dürer is clear, when seeing the AD monogram that the painter used in his paintings and prints, and which Clavé places at the upper right corner. Yet, the whole composition  – the cut profile, placed on a black and white background, the enhanced eye, and the embossed glove at the bottom right corner – let us think that Clavé is here referring to a specific painting, the auto portrait of 1498 which is held by the Prado museum.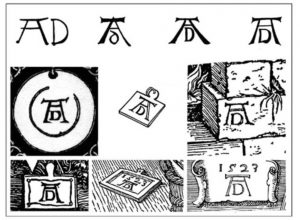 Erwin Panofsky explained in 1943 why this portrait was considered as a challenge for Dürer's contemporaries; he indeed represents himself as a "homo liberalis atque humanus", a "gentilhuomo". Clavé's general composition is similar, but he sticks to what is essential: the sharp eye of the artist, his silhouette emerging from shadow and light, his monogram and his thin leather glove which affiliates him to high society.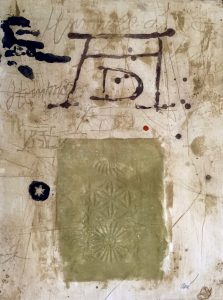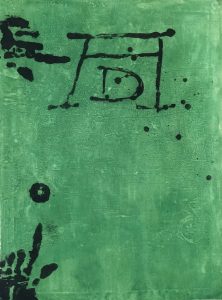 Clavé uses again this monogram for two prints this same year, prints for which we know several chromatic variations. But for these works, the homage is extremely synthetic. Only the emblematic A and D. These two letters assembled together this way leave no doubt, and have been part of western visual culture for long. Clavé pays tribute to The Master of engraving, without forgetting to add one (or two) handprint, which is the symbol of creation.
Clavé's Œuvre is punctuated with several references to past masters: El Greco, Rembrandt, Goya.  And it is no coincidence that Clavé looked into their portraits. We can highlight that this approach remained close to Clavé during the course of his lifetime; for instance in 1998 he paid homage to Botticelli with a series of oil paintings inspired by Portrait d'un inconnu tenant une médaille de Cosme l'Ancien (c. 1474; Galerie des Offices, Florence).